Get high-end professional results with DIY ease by installing your own AprilAire Dehumidifier.  We selected each of these models because they offer fantastic overall performance while each providing something unique.  AprilAire Dehumidifiers 1820, 1830, 1830CS, 1850, 1850CS, and 1852 are all world class indoor humidity control and air filtering machines designed for the harshest crawl space or basement conditions.  All AprilAire Dehumidifiers are high capacity, large space, dehumidifiers engineered to reduce indoor relative humidity and filter air in large spaces while being very low maintenance, super energy efficient, and quite.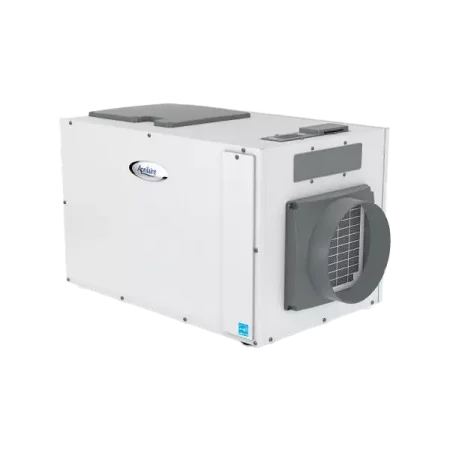 $

2,159.99
The Aprilaire E130 (formerly Aprilaire 1870) Dehumidifier is ideal for dehumidifying basements or sealed crawl spaces and can remove up to 130 pints (16 gallons) of water per day.
Key Features
Has the capacity to remove up to 130 pints of moisture per day (16 gallons)

Provides dehumidification for homes up to 7,200 square feet

Comes with a 5-year warranty

Made in USA

8" Power Cord

washable MERV 8 filter

¾" MNPT drain connection,

*drain hose NOT provided

leveling screw-in feet included
Specifications
19.5"w x 18.75"h x 30"d

Weight 113lbs

130 pints of moisture removal/day (16 gallons)

8.3A operating current

up to 7,200 square feet of coverage
Product ID
-
Add to cart
Aprilaire Dehumidifiers: 1820, 1830, 1830CS, 1850, 1850CS, and 1852. World class humidity management and air filtering systems designed for crawl space and basement conditions.
All our Aprilaire models run on a home's normal 120 VAC (120 volt alternating current) and do not require a dedicated circuit. Each unit comes with a drain hose which can be directed to a floor drain or sump pit. (If a drain is not convenient, they can be hooked up to a condensation pump. All models include a MERV 8 washable filter that is easy to remove and replace. Any anyone who can use a level can set one up with our exclusive CrawSpace-DIY.com setup kit, included at no additional cost.
CS models: Have been factory modified to operate based on DEW POINT and are for specific use in homes with isolated crawl spaces, multiple crawl spaces (partially divided), or whole house crawl spaces. They are setup to operate in unconditioned spaces and include a remote "service needed" warning lights – so you don't have to go into the crawlspace to verify the unit is working.
While Non-CS models are suitable for use in crawl spaces too, they are best suited for conditioned crawl spaces, basements, or homes with both a crawlspace and basement. These models are set to operated based on a Relative Humidity set point.
All units, except 1850F, include 10″ Inlet/Outlet duct collars and can be ducted in multiple ways including: to draw outdoor fresh air as needed, zoned, or to provide multiple room coverage.