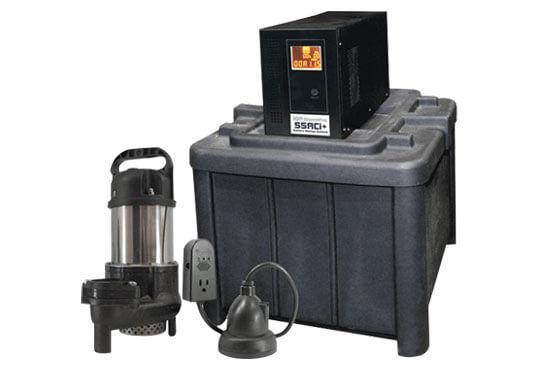 Ion StormPro® 55ACi+ | Battery Backup Pump Sump | Ion Technology
$2,157.16
-
The Ion 55ACi+ is the simplest way to install a new 1/2 HP sump pump and Battery Back-up system. Keep your sump pump operating even during a power outage.
Email to a friend
Description
Why should you choose the Ion StormPro® 55ACi+?
Your sump pump is effective at protecting your home against flooding and other water damage. However, during a big storm, the power can go out, and your device may fail. During this time, your basement can flood before the power comes back on.
Therefore, you need the Ion StormPro® 55ACi+. Our easy-to-install, low-maintenance battery backup will keep your home dry even when a storm is going wild outside.
What is the best battery backup system for a sump pump?
The Ion StormPro® 55ACi+ provides comprehensive protection from flooding when the power goes out. When the power fails, your sump pump can't protect your home from flooding. With the Ion StormPro® 55ACi+, you can rest assured your sump pump will always have the energy it needs to protect your home.
Furthermore, you never have to settle for a low-powered, plastic DC pump. Our product monitors your device and provides energy when needed. The 55ACi+ inverts power from the backup batteries to AC (alternating power) whenever an outage happens. This inversion of energy keeps your pump running during a storm. Additionally, the Ion StormPro® 55ACi+ recharges and switches your sump pump back to the main power once everything is restored. Lastly, our device always uses the 1/2 HP AC pump at full 61 GPM capacity!
Are battery backup sump pumps worth it?
Battery backups for sump pumps are easy to install and maintain. The Ion StormPro® 55ACi+ requires very little maintenance and will monitor your sump pump without your direct intervention. As long as you check on the battery every few weeks, you'll never have to worry about your home flooding during an outage!
Remember, you don't have to settle for low-quality backup batteries that leave your home vulnerable. The Ion StormPro® 55ACi+ will provide quality protection at the best possible price.
Additional information
| | |
| --- | --- |
| Weight | 65 lbs |
| Dimensions | 21 × 19 × 16 in |
Purchases Submitted A Customer Purchase is considered "placed" or "submitted", when our system issues a Confirmation of Your Recent Order email to you. A "submitted" order is not a binding agreement. We reserve the right to decline or cancel any or all of a submitted Customer Purchase.
Product Availability on our website is not guaranteed as it may be low in stock or impacted by other transactions. If product is not available by the time your order processes you will be notified via email. You can verify product availability Monday through Friday, 8:30 am to 5:00 pm (EST) by calling Customer Service at 844-643-5711
Fulfillment Customer Purchases will be processed in the order in which Crawl Space DIY, LLC, receives them.
Customer Purchases will be processed Monday through Friday 8:30 am to 5:00 pm, Eastern Standard Time. In most cases Customer Purchases received by 2:00 pm (EST) will ship the same day. Purchases received after 2:00 pm will be shipped the following business day.
Backorders If you place an order for an item that is not in stock, your item will be considered a Backorder. Your entire order will be placed on hold and shipped only when the order is complete. If you know an item will be considered a Backorder and you want the rest of your order to ship before that item is available consider placing two separate orders. Note: In most cases this will result in higher shipping costs.
Changes to your purchase by You Once submitted, you can not change, modify, or cancel an order online. If you need to make a change please call our Customer Service Department, 844-643-5711, during business hours, as soon as possible and discuss your situation with one of our Representatives. There are limited things the Representative can change but we will do what we can. Additions to or Changes to submitted orders that result in additional purchases and or shipping costs will require you to place the additional purchase online. Changes to a submitted order will not be accepted via email or voicemail. If you have a concern about your order or you place an additional order and want us to consolidate them into one shipment and one shipping fee, please call Customer Service. We will do what we can.
Our Customer Service phone number is: 844-643-5711
Or email us at: customerservice@crawlspace-diy.com
Customer Service is open Monday – Friday, 8:30 am to 5:00 pm (EST).
Changes to your purchase by Us. We will not change your order or make substitutions without contacting you prior to shipment. If, due to product availability or changes in our inventory, the need arises to change your order we will contact you via email and/or phone.
SHIPPING SERVICES
Shippers We coordinate the transportation and delivery of your purchase through a third-party shipping company (Shipper). (We are not set up to accommodate product pick up by our customers.)
Our Shipper is subject to change from time to time. Currently UPS handles most of our deliveries but we work with multiple Shippers. Some purchases (based weight and/or dimensions) and some delivery location require a specialized Shipper. Please call Customer Service after you receive your Order Confirmation if you know your delivery address presents special circumstances.
Email notification will be sent to the Customer's email address of record. (The email address you entered when becoming a Registered User or that you changed in your Registered User account profile.) Emailed shipping notification will include the name of the Shipper, the date and usually time they picked up your shipment, the shipment tracking number as supplied to us by Shipper, and either a web address or phone number you can use to track your shipment.
Shipping dates are not a guarantee. Shipper will provide you an expected delivery date that is subject to change. Allow extra time for shipping.
We reserve the right to accept or reject orders in whole or in part being shipped outside the continental United States. Additional fees may apply to international deliveries.
Original Manufactures Packaging. Crawl Space DIY, LLC will ship all products as the manufacturer packages them. Small, loose, or bulk items may be packed together. Orders will be consolidated and packed for shipment subject to the rules and policies of Shipper.
Damage or Loss. Liability for your Order during shipping and delivery will be transferred to Shipper. Damage to, or loss of, Orders during shipping will be the liability of Shipper and the remedy will be subject to the policy and procedures of Shipper. If this should happen please call Customer Service and let us help you.
RETURNS AND EXCHANGES
Please use returns@crawlspace-diy.com for questions regarding returns and exchanges.
Fulfillment Errors  Sometimes human error occurs in pulling together and packing orders.  If we made a mistake we will fix it.  Please contact our Returns Department at returns@crawlspace-diy.com to let us know.
Returns  Please contact us at returns@crawlspace-diy.com to begin the return process. Unopened, unused, and undamaged products in their original quantity may be returned within thirty days (30) of purchase. Shipping is not refundable. Additional shipping charges may occur. Return shipping charges for non-damaged items will be paid 100% by the customer and not by Crawl Space DIY. We charge a 15% restocking fee, which will be deducted from your refund.
Exchanges  Please contact us at returns@crawlspace-diy.com to begin the exchange process.  Unopened, unused, and undamaged products in their original quantity may be returned for exchange within thirty days of purchase. Shipping is not refundable. Additional shipping charges may occur. There is no restocking fee for exchanges.
Merchandise damaged in shipping See shipping policy for details.  Let us know by email at returns@crawlspace-diy.com or call Customer Service at 844-643-5711 so we can help you with the process.
Missing Parts or Defects If you purchase a product from us that arrived in the original manufacturer's packaging and you discover there are parts missing or the product is damaged.  Or, you received a product that is defective due to defects in manufacturing or workmanship.  Contact us at returns@crawlspace-diy.com, or call our Customer Service at 844-643-5711.   Rest assured, the products we offer have been selected because they are high quality and their manufacturer's provide us (and therefore you) excellent customer service.
SERVICE BEYOND YOUR PURCHASE
Product Safety Product safety is one of our top priorities. When applicable, each product page on our website includes a downloadable Product Safety Data Sheet.
Warranties and Guarantees You, the customer, are responsible for the accurate completion and submission of any or all Manufacturer's product registration and/or warrantee registration information. Each Manufacturer has their own process of collecting warrantee and registration information and detail will be found in the product's instructions packet that comes with their product.
All products sold by Crawl Space DIY, LLC are subject to their manufacturer's warranties or guarantees. Please contact our Customer Service Department for information on how to contact our manufactures warrantee department.
Recalls or Product Safety Warnings In the event that we receive notice from any of our product manufactures or distributors of a product recall or warning about Product Safety we will post their notice on our website.
In the case of a recall, we will attempt to email a notice to Customers who purchased that model of product through Crawl Space DIY, LLC using your email address in our system.
Product recalls and Product Safety notices and their remedies, if any, are a transaction between the manufacturer and you, the Customer. We assume no liability through our attempt to help communicate the message to you.