If your DIY project includes managing humidity in your crawl space, basement, or both, Crawlspace-DIY has a product to fit even the most extreme conditions.  No matter the size (large, small, or low), configuration (one large space, multiple spaces, or both), or humidity/temperature ranges you are trying to master, we have selected AprilAire and Santa Fe models that will finish your project with professional quality and results.  And, like all our products, they are simply the best value you will find.
Showing 1–12 of 27 results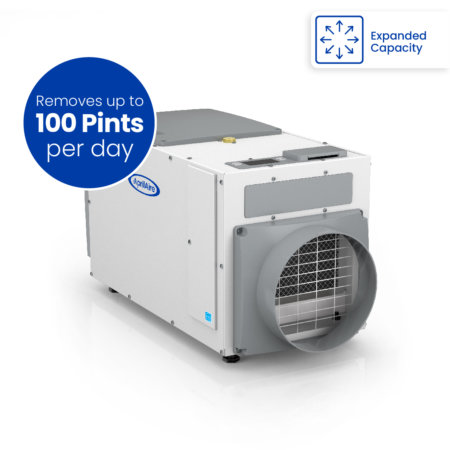 $

1,679.99
The Aprilaire E100N Dehumidifier is the perfect solution for dehumidifying basements or sealed crawl spaces. Its powerful capacity effectively removes up to 100 pints (12.5 gallons) of water per day.
The Aprilaire E100N is a whole-home dehumidifier that is built to remove moisture and provide complete comfort by controlling humidity levels. 
With a quiet operation, the E100N effectively removes up to 100 pints of moisture daily while actively cycling and filtering indoor air with the washable MERV-8 filtration for improved air quality. 
The E100N also offers flexibility in its design, as it can be installed as part of the HVAC system or as a standalone unit. Additionally, flexible ducts can be added to enhance air movement in finished basements or crawlspace applications.
Add to cart
What are dehumidifiers? An investment below to affect life above. High humidity down there makes your air conditioner work harder, fosters stinky and unhealthy microbial growth, and can damage your home and possessions. Goal: maintain relative humidity below 60% at all times.
Most of us wouldn't try to cool our entire first floor with one window air conditioner. (At least we wouldn't try it again.) The same thing applies to dehumidifiers, small units for small spaces, large for large. Most hardware store portable dehumidifiers are designed and rated for small areas. Quart capacity is not the most important factor, especially if your crawl space/basement area is larger than 400 sqft.
Our high capacity large space (sometimes called "whole house") dehumidifiers are designed to manage your entire lower level.
Useful terms:
Conditioned Space:

Does the crawl space have heating/air conditioning (HVAC) duct vents? Even if there are ducts in the space, do they have vents that can be opened to heat or air-condition the area? If not, you have unconditioned space. If you are encapsulating the area you may consider installing a vent in one of the HVAC supply ducts.

Relative Humidity:

Is the amount of water vapor that is present in the air. It is dependent on the air temperature and the amount of moisture available. Cooler temperatures require less moisture to attain high humidity levels. Warmer temperatures require more moisture to attain high humidity levels. It is recommended that the relative humidity in your home be below 60%.

Dew Point:

This is the highest temperature that water vapor will condense and form water droplets or dew.

MERV:

Is a measurement scale used to rate air filters and stands for "Minimum Efficiency Reporting Value". The rating is set from 1 to 16. The lower the MERV number rating, the better the filtration. Common ratings and filtration uses are:

MERV 1-4:

Pollen, dust mites, cockroach debris, sanding dust, spray paint dust, textile fibers, carpet fibers

MERV 5-8:

Mold, spores, dust mite debris, cat and dog dander, hair spray, fabric protector, dusting aids, pudding mix

MERV 9-12:

Legionella, Humidifier dust, Lead dust, Milled flour, Auto emission particulates, Nebulizer droplets

MERV 13-16:

Bacteria, droplet nuclei (sneeze), cooking oil, most smoke, and insecticide dust, most face powder, most paint pigments

Condensation Pump:

Is often used to help collect and remove water from dehumidification units.

Ducting Kits and options:

Many times you may want to use a ducting kit with your dehumidifier. It allows you the ability to dehumidify air in multiple rooms. This works by creating airflow to different rooms; for example, a finished basement that has multiple rooms, or a utility room.

Hanging Kits:

Many times space in a crawl space is limited. Hanging kits allow you to mount the dehumidifier up off of the ground and hang from the floor joists to allow easier access through the crawl space.