$

170.00
Out of Stock. Call for Available Alternatives
Adding additional straps to your order is almost as easy as installing them with our COMPLETE CARBON FIBER 1 STRAP KIT.
-
Read more
$

495.00
Out of Stock. Call for Available Alternatives
Wondering if you can fix your bowing basement wall?  Our Complete Carbon Fiber Wall Repair Kit, with instructions, and on-line instructional videos are all designed so a person with basic painting skills and time can follow the directions with success.
-
Read more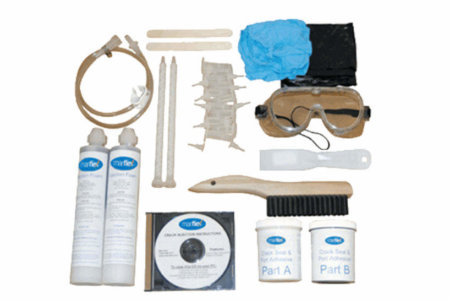 $

196.89 –

$

677.39
Leaky wall crack? You Can Fix It! Hairline and small cracks in a poured cement foundation are common, but sometimes they leak water, which is a problem. Using our Crawl Space DIY Crack Injection Kit you can repair it in just a few hours. All you need is a regular caulking gun and a paper plate; everything else is in the Crawl Space DIY Crack Injection Kit. This low skill DIY project will stop the leak permanently by sealing the wall crack all the way through the wall.
-
Select options